Ag Links
Libraries
Media Links
Newspapers
from the United Kingdom
Radio
British Broadcasting Network
from the United States Government
Map Links
World Info
Last updated: 1/3/2013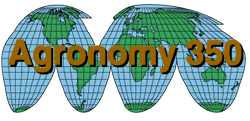 Welcome to the
Agronomy 350
Web Resource Page!

Class Information for Spring 2013
Instructor

Lee Schweitzer
2-414 Lilly Hall
494-4789
lschweitzer@purdue.edu

Class Speakers
Class Preparation/Participation Guidelines
Scrapbook Final Checksheet
Termpaper Final Checksheet
World Regional Maps - Africa, Asia, Central & Eastern Europe, Mideast, South America, W Europe & Scandinavia


Audio Files of Class Sessions Available To Students Registered in AGRY 350 (Access Protected Via Login and Password)

https://tomcat.itap.purdue.edu:8447/Boilercast/ituneslogin

Lexis - Nexis Academic Universe

Use This Site On Purdue Computers To Search World News By Keyword, Source, and Date(s).

May Also Be Used To Review Profile Information On Countries and Regions of the World.