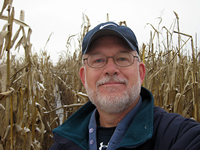 Dr. Robert L. Nielsen
Professor of Agronomy
Extension Corn Specialist
915 W. State Street
Department of Agronomy
Purdue University
West Lafayette, Indiana 47907-2054
Office: 3-450 Lilly Hall
Telephone: 765.494.4802
FAX: 765.496.2926
Email: rnielsen at purdue.edu
---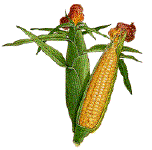 My Responsibilities at Purdue University
Extension education in corn management systems.
Transgenic crop issues
Corn growth and development
Understanding the effects of stress on corn
Stand establishment issues in corn
Corn replant decision-making
Yield-limiting factors in corn production
Crop problem troubleshooting
Site-specific crop management technologies
Working with yield monitor data
Technology transfer & distance education via the World Wide Web
Managing the downside risks of continuous corn
Guidelines for on-farm research
Managing nitrogen fertilizer for corn
Profitable corn management practices
My Web sites
Extension Publications
Publications marked with the symbol require the Adobe Reader plugin.
Publications that are not available online may be ordered through Purdue's Media Distribution Center.
Since the mid'1990's, I focused on using the Web for publishing online newsletter articles, rather than numbered Extension publications, about many aspects of corn production. Most of them are archived in my Corny News Network Archives.
Research interests in corn management systems.
Corn Yield Response to Seeding Rates (2001 - )
Corn Yield Response to Nitrogen Fertilizer Rates (2006 - )
Optical Reflectance Sensors & Their Potential for Fine-tuning N Rate Recommendations in Corn (2006 - )
Effects of Uneven Plant Spacing on Corn Grain Yield (2004 - 2006)
Post-Emergence Spray Applications & Arrested Ear Development (2008 - 2011)
Response of Corn to Early Applications of Foliar Fungicides (2012 - )
---
A Fun Extension Project:

---
Presentations, Papers, etc.

I have begun to convert my online Powerpoint® presentations to Adobe® Flash® versions that should be less memory-intensive to download and play. They require Adobe's Flash Player which is a standard add-on to most of today's Web browsers. If you need to download and install the Flash Player, go to the Adobe download site at http://get.adobe.com/flashplayer.
My Background