II. SOIL AND LANDSCAPE PROPERTIES
Slope Next Section>>
Slope gradient (shortened to "slope" in this manual) is the angle of inclination of the soil surface from the horizontal. It is expressed in percent, which is the number of feet rise or fall in 100 ft. of horizontal distance.
Slope gradient is important because it influences the rate at which runoff flows on the soil surface and erodes the soil. Slope shape (straight, concave, or convex) and slope length are also important properties of soil surfaces. Slope also affects the use of farm machinery. Some fields are so steep that cultivation is impractical even though the soil is otherwise suitable.
For homesites, steep slopes affect the construction of the house and maintenance of lawns and plantings. Furthermore, septic tank waste disposal systems usually should not be constructed on steep slopes because effluent may seep out on the soil surface downslope from the soil absorption field.
In soil evaluation, two stakes will be set up to indicate where slope is to be determined. A slope finder is used to measure slope. The distance between slope stakes varies because slope lengths are different in different landscapes. Measure slope to the nearest degree from the top of one stake to the top of the other, or between similar marks on the two stakes using a slope finder (Fig. 9). Determine the slope classes according to Table 3.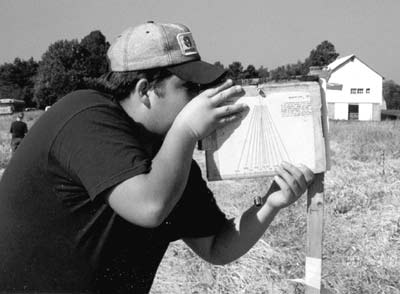 Fig 9. Determining slope with a slope finder. The lower band on the stake is for shorter contestants.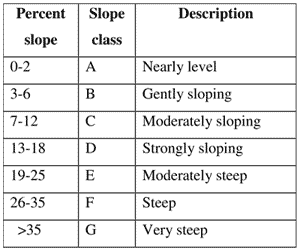 Table 3. Slope classes.