Soybean Yields
Profitable Soybean Management, 2005
Combinations of planting date, row spacing, plant population, and variety maturity determine the potential amount of solar energy a crop can convert to chemical energy as grain, and this is the essence of crop management. We must use variety selection, pesticides, tillage, and other cultural practices to eliminate or reduce the stresses that reduce yield. The components of each production system must be compatible with one another and the environment. They must also be economical, flexible and easily applied. Historically, producers have used the soybean canopy to shade out weeds starting about six weeks after planting when herbicides loose their effectiveness. Seeding rates were and are still higher than needed for maximum yield and in many cases are decreasing profit. Dr. Beuerlein's presentation will include a brief discussion of the basic physiological principals of crop production and how they are used to maximize yield. Also included is a discussion of economic principals used to control production costs and increase profits. The balance of the presentation will be devoted to the profitable use of cultural practices and inputs used to produce soybeans.

Jim Beuerlein The Ohio State University
beuerlein.1@osu.edu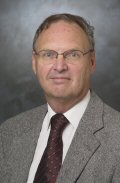 Biography: Employed at The Ohio State University since 1970, and has been the State Extension Specialist for soybean and small grain since 1981 with a dual Extension and Research appointment. He is in charge of the Ohio Soybean Performance Trials, Ohio Wheat Performance trials, and Ohio Soybean Inoculation trials; and has extensive research programs in both soybean and small grain production. Dr. Beuerlein serves on the boards of Directors of the Ohio Soybean Association, Ohio Wheat Growers Association, and is an advisor to Ohio Foundation Seeds and the Ohio Top Farmers. B.S. Univ. of Tenn. 1965 in Agronomy M.S. Univ. of Tenn. 1967 in Crop Science Ph.D. Univ. of Ill. 1970 in Crop Physiology.