High Yield Corn Systems
Management Practices for Achieving High Corn Yields
Dr. Dobermann will summarize results of an interdisciplinary long-term research program on understanding corn and soybean yield potential and developing management strategies for acheiving it. He will also demonstrate the use of the Hybrid-Maize model for quantifying site yield potential and fine-tuning of crop and fertilizer management to achieve high yields and high nitrogen use efficiency.

Achim Dobermann Professor of Soil Science and Nutrient Management
University of Nebraska
adoberma@unlnotes.unl.edu
http://agronomy.unl.edu/fac/dobermann.htm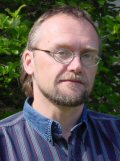 Biography: Achim Dobermann is professor of soil science and nutrient management at the University of Nebraska-Lincoln. He conducts research on nutrient cycling, soil variability, crop simulation modeling, and strategies for nutrient management in high-yielding corn production systems.