Soil Erosion: So You Really Know What Happens?
Soil Erosion

Mark EvansSoil Conservation, Water Quality, Tillage
Purdue CES
mevans@purdue.edu
http://www.agry.purdue.edu/swq/index.htm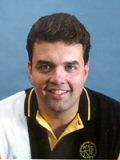 Biography: A twelve year Purdue staff member, Mark Evans educational background includes a BS in agriculture education and an Agronomy MS in soil compaction/soil fertility from Purdue. Currently, Mark Evans works in Owen and Clay Counties as an Agriculture and Natural Resources, Purdue Extension Educator. He is also County Extension Director in Owen County. For more than 10 years prior to the fall 2003, Mark served as a Conservation Program Specialist in Agronomy working extensively with soil and water resource education. Although his work has broadened in his new position, his past work experience is in the area of soil quality and soil conservation.