Foliar Fungicides for Control of Soybean Rust – How Do They Actually Work?
Soybeans have been grown in the U.S. for many years with very few inputs besides seed costs and herbicides. The plants fix their own nitrogen and have had few insect or diseases that are controlled with pesticides. Genetic resistance has been the main means of disease control. Recently, fungicide seed treatments have increased, especially with earlier planting dates, more no-till, and expensive seed. With the movement of Asian rust to South America soybean growers are now faced with the possibility of using foliar fungicides to control this serious pest. This presentation will focus on three main objectives. The first is to introduce the main groups of fungicides and their mode of action. While effective, the most popular fungicides have a single-site mode of action. This brings us to the second objective, the need for fungicide management to reduce the selection of fungicide resistant stain of the pathogen. Growers and crop consultants have already learned a great deal about resistant management strategies, especially when dealing with insect resistance in corn or herbicide resistance in weeds. They will need to implement similar strategies for fungicides. The last objective will focus on non-target effect of fungicides on soybeans, e.g. what else are we affecting. For the past seven years we have evaluated foliar fungicides on soybean and found the control of several plant pathogens, which may affect yield. The recent report of Asian soybean rust in Columbia, north of the equator, makes this information critical to soybean crop consultants/growers for 2005.

Wayne Pederson
Associate Professor of Plant Pathology
University of Illinois
wpederse@uiuc.edu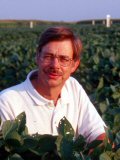 Biography: Wayne grew up on a small grains farm in ND and received his PhD in Plant Pathology from NDSU in 1976. He worked at Univ of Nebraska and Penn State before joining Univ of Ill in 1980. He has worked on integrated management for corn, wheat and soybean diseases for nearly 30 years and his emphasis has been on breeding for disease resistance, effects of tillage and other cultural management practices on plant diseases, and chemical control of plant diseases. He also teaches two graduate-level plant pathology courses.