Review of Starter Fertilizers
Where Does Row-Placed Fertilizer Fit in Today's Agriculture?
Starter fertilizer was a mainstay of the fertility program of most Midwestern corn producers for many years. Today producers have moved away from the traditional application of dry materials, typically placed a little to the side and below the seed, to low rates of fluid materials with the seed or omitting planter applications altogether. There are numerous reasons for this evolution including: 1) the cost of the fertilizer material and equipment; 2) a lack of economic response; 3) the logistics of mounting attachments and carrying material on large planters; 4) planting efficiency considerations due to time required for nursing and filling fertilizer boxes or tanks; and, 5) movement toward narrow rows where it is more difficult to apply materials. There are situations however where starter fertilizer may a good alternative for supplying nutrients, including P and K, or S and micronutrients. Band placement has been recognized as the most efficient method for placing nutrients and responses are consistently observed in no-till systems or where soils are compacted. Before omitting starter fertilizer applications producers should carefully consider whether starter is right for their specific crop production system.

Dick Wolkowski
University of Wisconsin
rpwolkow@wisc.edu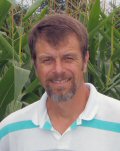 Biography: Dick is an Extension Soil Scientist with the Department of Soil Science at the University of Wisconsin-Madison where he received his PhD degree in 1989. He conducts an applied research and Extension program in the area of soil and water management, focusing on issues related to tillage and fertility interactions, soil compaction, and nutrient availability from municipal and industrial wastes. Dick also teaches two classes in the Farm and Industry Short Course, a two year certificate program at the University. He and his wife Teresa reside in Baraboo (home of the Circus World Museum) and are parents of five adult children. His hobbies include hunting and fishing, downhill skiing, and golf.