Western Bean Cutworm—A New Pest in Midwestern Field Corn
The western bean cutworm, Striacosta albicosta, in Iowa has caused substantial yield losses in some cornfields during each of the last seven years. The significance of this insect is that multiple larvae may attack a single corn ear and destroy a large proportion of the kernels. It is native to North America and was first a pest of Colorado pinto beans in 1915. Later, in 1954, it was identified in Idaho as a pest of corn. It had slowly and steadily expanded its known distribution from Arizona to Nebraska, but in 2000, economically damaging populations were found in field corn in western Iowa. The insect has rapidly expanded its range in recent years, and in 2006 it was captured in Indiana and Ohio. This presentation will provide information on western bean cutworm identification, life history and damage in corn, movement across the Midwest, scouting, economic thresholds, and management with insecticides and transgenic corn.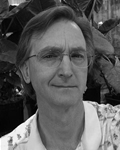 Marlin Rice
Dr. Rice is a professor of entomology at Iowa State University. He has an extension and research appointment, and he works primarily on corn, soybean, and alfalfa insects. Dr. Rice has been employed as an entomologist for Texas A&M University, University of Idaho, and University of Zimbabwe where he was a Fulbright Scholar. He received a Ph.D. in entomology from Kansas State University in 1987.