Energy and Environmental Contributions of Corn-Ethanol
Recent controversy over the energy efficiency and greenhouse gas (GHG) reduction potentional of corn-ethanol has fueled debate over the suitability of this energy system as a source of transportation fuel. Our recent research with high performance cropping systems and advanced corn-ethanol biorefineries indicates a high level of efficiency and significant GHG mitigation. We have developed a model to analyze the energy and emissions performance of individual biofuel production systems, suggesting potential for emissions trading and additional industry revenue.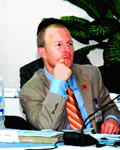 Adam LiskaPost-Doctoral Research Associate
University of Nebraska
aliska2@unlnotes.unl.edu


Dr. Adam Liska is a Post-Doctoral Research Associate in the Department of Agronomy and Horticulture at the University of Nebraska. He completed his Ph.D. in biology in 2003 at the Max Planck Institute of Molecular Cell Biology and Genetics, in Dresden, Germany, and completed his B.S. in biochemistry and biology at the University of Nebraska. Adam is a member of a team of faculty studying the energy efficiency and environmental impact of corn-ethanol biofuel production systems. His current research includes the life-cycle analysis of crop-based ethanol, biodiesel, and cellulosic ethanol, potential GHG emissions trading for biofuels, and the impact of biofuels on food security and the environment.