Getting the Most from your Wheat Crop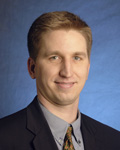 Chad LeeAssistant Extension Professor in Grain Crops
University of Kentucky
chad.lee@uky.edu
http://www.uky.edu/Ag/GrainCrops/

Dr. Chad Lee grew up on a grain and hog farm in southern Ohio where he was active in 4-H and FFA. He received his B.S. in Agriculture from Berea College in Kentucky, M.S. in Agronomy from the University of Nebraska-Lincoln and Ph.D. in Crop and Soil Sciences from Michigan State University.
Dr. Lee is an Assistant Extension Professor in Grain Crops for the University of Kentucky. Dr. Lee has an 80% Extension/ 20% Research appointment where he provides statewide leadership for the development and delivery of information for corn, soybean, and small grains production. He leads and applied research program focused on production and management challenges of Kentucky producers.
Many county agents, producers and agribusiness professionals view his Grain Crops Extension website (http://www.uky.edu/Ag/GrainCrops/) for the latest information.