Fungal Diseases of Cucurbits
This session will cover identification, prevention and management of the most common fungal diseases of cucurbits in Indiana including, anthracnose, Alternaria leaf blight, gummy stem blight, downy mildew and powdery mildew. An emphasis will be placed on managing foliar diseases. Extension materials will be available to help attendees understand how to alternate the different "families" of fungicides so that resistance does not develop. Information will be presented on how to manage diseases of muskmelon and watermelon using MELCAST, a Purdue University weather-based disease forecasting system that can be used to help growers schedule fungicide applications.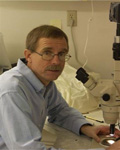 Dan EgelExtension Plant Pathologist
Southwest Purdue Agricultural Center

egel@purdue.edu


Dan Egel is the extension plant pathologist for vegetable crops in Indiana. A member of the Department of Botany and Plant Pathology, Dan is stationed at the Southwest Purdue Agricultural Center in Vincennes, IN at the heart of muskmelon and watermelon country. Dan diagnoses diseases, conducts fungicide tests and develops extension materials such as the annual Midwest Vegetable Guide for Commercial Growers. Dan is also responsible for conducting research on disease problems that plague Indiana growers.