Currently Used Salt Index Tables are Misleading
In the 1940's fertilizer materials that were available at that time were evaluated for changes that occurred in the soil solution osmotic pressure upon application. The term "Salt index' was then used to compare the increase in osmotic pressure for 45 fertilizer materials against the same weight of sodium nitrate. During the 1950's a simplified laboratory method was developed where salt index was measured by electrical conductance rather than by osmotic pressure. Data derived from the laboratory method does not correlate with the earlier soil applied application, with the laboratory evaluation giving a significantly higher "Salt Index" number. Fertilizer materials, especially liquids like UAN (urea ammonium nitrate solution), APP (ammonium polyphosphate), ATS (ammonium thiosulfate), KTS (potassium thiosulfate) and CN-9 (calcium nitrate solution) were not available until after the original study. However, data from these materials have been added to the data from the original study in fertilizer "Salt Index" reference tables being used today. Industry claims for fertilizer materials related to a low "Salt Index" for seedling safety or foliar application are inappropriate. Soil, weather and crop condition like soil type, moisture and temperature as well as rate of application and method of application have more to do with safety than the "Salt Index" number.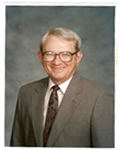 John ClappAgronomic Consultant
Tessenderlo Kerley
jclapp@tkinet.com

Clapp is a native of North Carolina and lives on a 440 acre family farm near Greensboro that has been in the family since 1845. He received his Ph.D. in Soil Fertility and Plant Physiology from North Carolina State University and early in his career was on the faculty there as an Associate Professor of Crop Science and Extension Soybean Specialist. For the last 32 years Clapp has been employed by the fertilizer industry (Allied Chemical, Arcadian and Tessenderlo Kerley) responsible for agronomic evaluation of Ag Products and Sales Support. He retired from Tessenderlo Kerley as Director of Agronomy on April 1, 2007. Currently, he is an Agronomic Consultant for Tessenderlo Kerley.