Going Beyond Insecticides: The Future of Soybean Aphid Management?
2007 saw a return of the soybean aphid to outbreak levels throughout the Midwest, especially Iowa. During this outbreak The Soybean Entomology Laboratory at Iowa State University tested whether the current recommendation for soybean aphid management (the 250 economic threshold) is the most cost-effective and efficient approach for protecting yields. The benefits of scouting and applying a foliar insecticide only when aphid populations exceed the threshold will be explained. When populations reach threshold, growers have over a dozen different insecticides to choose from, a decision that requires consideration of several parameters; knockdown, cost, and residual time. We compared several different insecticides during the recent soybean aphid outbreak to help determine which of the more than a dozen products available provides the greatest yield protection. Furthermore, we tested two other methods to prevent soybean aphid outbreaks; aphid-resistant soybeans and the release of an aphid-killing wasp from Asia. The potential of these methods to prevent aphid outbreaks, including a preview of commercially available resistant soybeans will be discussed.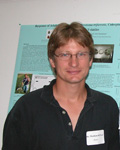 Matthew OnealAssistant Professor of Soybean Entomology
Iowa State University
oneal@iastate.edu


Dr. O'Neal is the Assistant Professor of Soybean Entomology at Iowa State University, where he conducts research on economic and environmentally sustainable methods of protecting soybeans from insect pest. He received his M.S. in Entomology at the University of Illinois in Champaign-Urbana and his Ph.D. at Michigan State University. His current research program focuses on the several aspects of soybean aphid management and biology, including the development of economic thresholds, evaluation of host plant resistance and the incorporation of biological control into aphid management plans.