Risk vs. Reward: Can We Resolve Row Spacing and Seeding Rate Questions in Soybean?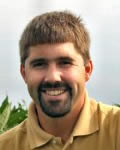 Shawn Conley State Soybean and Small Grains Extension Specialist
University of Wisconsin, Madison
spconley@wisc.edu


Dr. Conley is the State Soybean and Wheat Extension Specialist at the University of Wisconsin, Madison. The overall goal of his extension and research program is to increase the economic and environmental sustainability of current soybean and wheat production practices through improved crop and pest management strategies and the development of accurate and timely crop and pest management decision aids.