Optimizing Strip-Till and No-Till Systems to Achieve Soil Quality Improvement and Corn Plant Uniformity in the Biofuel Era
Recent developments in biofuel demand and the rapid adoption of modern transgenic hybrids are changing production systems towards more continuous corn, more intensive tillage, higher plant populations, and ever higher crop residue levels at harvest. Meeting society's needs for food, feed, and fuel from grain corn, and in the future from corn stover, requires continued refinement of tillage systems to sustain soils and optimize the uniform development of corn plants in all kinds of stressful environments (whether from cool temperatures, drought, nutrient deficiencies, or compaction). The standard chisel plow system used in continuous corn may be the least sustainable of all tillage systems over a 30-year timeframe. But getting high yields with even less tillage means achieving more uniformity in the growth of adjacent corn plants. I will discuss some new developments including automatic guidance in no-till and strip-till in continuous corn, nutrient banding, and operation timeliness that can help guide crop consultants in their recommendations to cost- and soil-conscious corn farmers.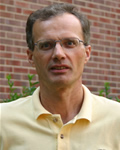 Tony J. Vyn Professor and Cropping Systems Extension Agronomist
Purdue University
tvyn@purdue.edu
http://www.agry.purdue.edu/staffbio/vyn.htm

Dr. Tony J. Vyn is a Professor and Cropping Systems Extension Agronomist in the Department of Agronomy at Purdue University. Tony grew up on a hog and cash crop farm near Chatham in Southwestern Ontario, Canada. He earned his degrees from the University of Guelph, (in Guelph, Ontario) and was a faculty member in the Crop Science Department at the same university from 1987 until he left for Purdue University in 1998. Dr. Vyn advises several graduate students in research focused on understanding the interactions of tillage, crop rotation, and nutrient placement systems with soil properties and crop response. His current investigations include tillage comparisons (like no-till versus strip tillage), RTK automatic guidance for strip tillage and nutrient banding, soil carbon sequestration, plant-to-plant variability in corn, greenhouse gas emissions, and deep banding versus broadcast placement of P and K fertilizers for corn and soybean in intended high yield environments. He has served as Extension Coordinator for the Agronomy Department at Purdue and as Associate Editor for the Crop Science Journal. In his spare time, he particularly enjoyed cash-crop farming with his own family from 1980 to 1998.