Utility of Future Herbicide Tolerance Traits for Corn and Soybeans
How much are our current soybean yields limited by micronutrients like manganese? Many soybean growers have noticed a yellowing (sometimes referred to as "yellow flash") of glyphosate-tolerant soybean following post-emergent glyphosate applications. Glyphosate molecules are known to chelate with Mn, and prior research has suggested that leaf Mn deficiencies are more prevalent following glyphosate applications. Foliar Mn applications have been recommended when leaf Mn levels are low, and these are perhaps most effective when applied about 7-10 days after each glyphosate application. In this presentation, we will review what is known about foliar Mn applications versus banding of Mn at planting, and about the soil factors that limit Mn availability to soybean plants at various intensities of glyphosate application (from no glyphosate at all to 3 applications per year). The Indiana Soybean Alliance has been instrumental in funding this project in 2007 and 2008.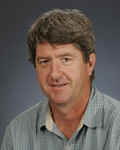 Mark Loux Professor, Department of Horticulture and Crop Science
Ohio StateUniversity
loux.1@osu.edu

Dr. Mark M. Loux is a Professor and Extension Specialist in weed science in the Department of Horticulture and Crop Science at The Ohio State University. Dr. Loux received his B.S. in Plant Science from the University of Delaware in 1981. He obtained his M.S. and Ph.D. in Agronomy from the University of Illinois in 1985 and 1988, respectively. Dr. Loux is responsible for weed science research and extension programs in soybeans, corn, wheat, and forages in Ohio. His research program at OSU focuses on herbicide resistance and management of weeds in reduced-tillage systems. Dr. Loux developed and is currently a co-author of the OSU/Purdue extension publication, Weed Control Guide for Ohio and Indiana, and is an active contributor to the C.O.R.N. newsletter (corn.osu.edu), a primary information delivery tool for the OSU Agronomic Crops Team.