High Yield Soybean Production - What's New?
Soybean varieties have a maximum yield potential that is genetically determined. This genetic yield potential is obtained only when environmental conditions are perfect – such conditions rarely exist. The theoretical yield potential for soybeans varies considerably according to environments. In a field situation, environmental conditions provide the major portion of the environmental influence on soybean growth, development and yield. The goal of every management decision should be to improve plant conditions during specific growth periods and thus minimize stresses that will influence crop growth and development during critical phases of yield formation. To achieve high yields, it takes a combination of management decisions and genetic potential. If we do not manage our soybeans right, we are simply not going to be able to unlock all the yield potential of the new varieties. Because of high costs and high prices, we are dealing with much more risk than ever before. Simply put, there is a lot to gain, but there is also a lot to loose. Many things have changed, and we should rethink our production strategies. It is now all about yield and controlling your inputs cost. We do not want to use any inputs that can not guarantee an economic return. For our business plan, we should know exactly what it takes to break even on a farm and how much it costs to produce a bushel.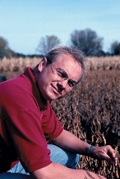 Palle Pedersen Assistant Professor of Agronomy and Soybean Extension Agronomist
Iowa State University
palle@iastate.edu
Dr. Palle Pedersen is an Assistant Professor of Agronomy and the Soybean Extension Agronomist at Iowa State University. Dr. Pedersen received his B.S. and M.S. degrees in Agricultural Science from the Royal Veterinary and Agricultural University in Copenhagen, Denmark. He received another M.S. degree in Agricultural Economics from University of London, England. He obtained his Ph.D. degree in Agronomy from University of Wisconsin-Madison in 2002. He has a split appointment between extension and research. The objective of his extension program is to develop information to address the needs of soybean farmers in Iowa that is economically and environmentally sustainable. The overall goal of his research program is to identify and solve soybean production problems to improve the economic well-being of farmers. Emphasis is on soybean response to management systems and new technologies; genotype by management system interactions; crop rotation effects; and the effect of agronomic practices on soybean pathogens and pests.