Popcorn Points To Ponder
This presentation is designed to prepare a CCA to be a source of information and a help in the decision making process of his client in regards to popcorn production in Indiana. Topics to be presented: Indiana's rank in popcorn production, Popcorn companies in Indiana, Income potential and contracts, Popcorn's position with FSA, Basic farming practices, Fertility requirements, Types of popcorn-hybrids & use, Seed and seed size, Planting and equipment options, Basic pests and pest management compared to Dent corn, Source for Popcorn pesticide information, Harvesting equipment, Harvest moisture, Quality evaluation, Food Safety and Sanitation, Storage requirements.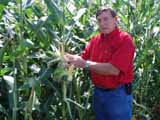 Bruce Reynolds Senior Ag Operations Specialist
ConAgra Foods Inc.
Bruce.Reynolds@conagrafoods.com

Bruce Reynolds, BS degree in Ag –Purdue University, 10 years with Agricultural Research Consultants (first IPM consulting firm in Indiana), charter member (1982) – Indiana Association of Independent Crop Consultants (now Indiana Association of Professional Crop Consultants), Certified Crop Advisor, Certified Professional Agronomist and member of ASA. First Field Agronomist for Orville Redenbacher Popcorn and 21 years of experience in Popcorn Production and storage. Currently serving as a Senior Ag Operations Specialist with ConAgra Foods – Snack divison- Brookston, Indiana. Products: Orville Redenbacher and Act II Popcorn.