Traits for Insect Control with Transgenic Bt Corn: What, Why, and How . . . Now and in the Future
The impact of transgenic Bt corn hybrids on insect populations and their control has been dramatic, transforming the way we think about and implement insect management strategies. Some of the first Bt corn hybrids, commercialized in the mid-1990s, were extremely effective against corn borers (both European and southwestern), giving corn growers a glimpse of the future potential for transgenic technology in agriculture. However, the commercialization of Bt corn hybrids also introduced the somewhat complex concept of insect resistance management (IRM) with non-Bt corn refuges, placing further emphasis on management in contrast to in-the-moment decision making. Early in this decade, the commercialization of transgenic Bt corn hybrids for control of corn rootworms generated even more interest and excitement among corn growers who enthusiastically adopted the technology to control the most important insect pests of corn in North America. In due course, transgenic traits for control of both corn borers and corn rootworms were "stacked" in elite corn hybrids with traits for herbicide tolerance, resulting in double-, triple-, and quad-stacked hybrids. Concurrently, "new and improved" versions of transgenic Bt corn hybrids were introduced. And on the near horizon are the anticipated products Optimum® AcreMaxTM 1 Insect Protection (so-called "refuge in a bag" from Pioneer) and SmartStaxTM (cross-licensed by Monsanto and Dow AgroSciences), an 8-gene stacked combination in corn that will express more than one protein for control of the same target insect, as well as provide herbicide tolerance. All of these past and proposed future transgenic corn developments promise a dizzying array of choices for corn growers. It is likely that the IRM guidelines and requirements will change, too, creating even more uncertainty about implementation and compliance. The thrust of the discussion will be a review of the currently available and projected traits and their combinations for insect management in corn hybrids and how integrated pest management (IPM) and IRM will be influenced by their widespread use. Results from applied research efforts will supplement the discussion. Where appropriate, case studies will be included to help elucidate some of the complexities and potential drawbacks of using transgenic technology for insect management.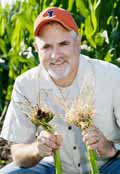 Kevin SteffeyProfessor of Agricultural Entomology
University of Illinois
ksteffey@uiuc.edu
http://www.cropsci.uiuc.edu/faculty/steffey/


Kevin Steffey is an Extension Specialist and Professor of Agricultural Entomology in the Department of Crop Sciences at the University of Illinois. He received his B.S. in entomology from Purdue University (1972), his M.S. in entomology from the University of Missouri (1975), and his Ph.D. in entomology from Iowa State University (1979). Kevin began his career in Illinois in 1979 and has focused his educational and applied research programs on insect management in field crops. His research has focused on management of insect pests of corn (primarily corn rootworms and European corn borer, including management with transgenic crops), soybeans (including soybean aphid), and alfalfa, and on insect surveys of agricultural systems. He is the author or co-author of 35 scientific publications, more than 45 invited publications (including 18 book chapters and monographs), and more than 240 extension publications. He has been invited to speak at nearly 150 educational events sponsored by other universities and the agricultural industry. Kevin has served the Entomological Society of America (ESA) as President of the North Central Branch (1998), on the Governing Board (1990-1993, 2000-2005), as ESA President (2004), and as a member of numerous committees. He was the lead editor of the ESA's Handbook of Corn Insects published in 1999. In 1996, he was awarded the Distinguished Achievement Award for Extension Entomology, and in 2008 he was elected as an ESA Fellow. In April, 1998, he received the Paul A. Funk Recognition Award from the College of Agricultural, Consumer and Environmental Sciences at the University of Illinois. This is the premier award offered by the College, and it is given to only three faculty members each year.