Soybean Cyst Nematode in the Midwest: Current Status and Future Directions
The soybean cyst nematode (SCN) is a serious threat to soybean production in the Midwest. This microscopic, parasitic worm is present in many fields in the region. SCN often does not cause obvious symptoms for years after it becomes established in a field, but soybean yield losses occur even if symptoms are not present. Successful, long-term management of SCN requires keeping SCN population densities low rather than trying to drive high SCN population densities down. A management program should include scouting fields to identify new SCN infestations (while population densities are relatively low), and then growing nonhost crops, like corn, in rotation with SCN-resistant soybean varieties. SCN population densities will decrease markedly after one year of corn is grown, but the decrease in SCN numbers is much less substantial in second- and third-year corn in Iowa. SCN-resistant soybean varieties typically provide high yields and prevent increases in SCN population densities. There are at least four different soybean breeding lines, called sources of resistance, used to develop SCN-resistant soybean varieties. A great majority (>90 percent) of SCN-resistant soybean varieties for the Midwest have SCN resistance genes from the breeding line PI 88788. None of the resistant soybean varieties completely stop SCN reproduction, and low-level SCN reproduction on resistant soybeans can result in the selection of SCN populations with increased reproduction on the resistant varieties. It is no longer uncommon to find SCN populations with greater than 10 percent reproduction on PI 88788 in the Midwest. But increased SCN reproduction on SCN-resistant varieties does not necessary result in low soybean yields. Results from field experiments that were conducted to assess SCN reproduction and yield of SCN-resistant soybean varieties will be discussed in this presentation. Various foliar sprays, soil amendments, and seed treatments also are available to help manage SCN, and results (SCN reproduction and soybean yields) of field experiments in which some of these products were studied will be presented in this talk as well.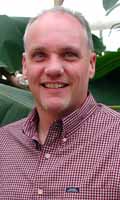 Greg TylkaProfessor
Iowa State University
gltylka@iastate.edu

Greg Tylka is a professor in the Department of Plant Pathology at Iowa State University. Tylka has research and extension responsibilities and also coordinates the ISU Corn and Soybean Initiative. Tylka earned B.S. and M.S. degrees in biology from California University of Pennsylvania and a Ph.D. in plant pathology from the University of Georgia. The activities in Tylka's research program focus mostly on the biology and management of the soybean cyst nematode (SCN). Current research includes field evaluation of SCN-resistant soybean varieties and SCN management products, studies of the interactions of SCN with brown stem rot of soybean and the soybean aphid, determining the distribution of SCN HG types in Iowa, and determining the impact of SCN and other pests on soybean grain composition.