Manganese Management in Glyphosate-Resisant Soybean Cropping Systems
How much are our current soybean yields limited by micronutrients like manganese? Many soybean growers have noticed a yellowing (sometimes referred to as "yellow flash") of glyphosate-tolerant soybean following post-emergent glyphosate applications. Glyphosate molecules are known to chelate with Mn, and prior research has suggested that leaf Mn deficiencies are more prevalent following glyphosate applications. Foliar Mn applications have been recommended when leaf Mn levels are low, and these are perhaps most effective when applied about 7-10 days after each glyphosate application. In this presentation, we will review what is known about foliar Mn applications versus banding of Mn at planting, and about the soil factors that limit Mn availability to soybean plants at various intensities of glyphosate application (from no glyphosate at all to 3 applications per year). The Indiana Soybean Alliance has been instrumental in funding this project in 2007 and 2008.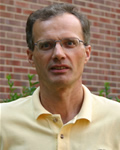 Tony J. Vyn Professor and Cropping Systems Extension Agronomist
Purdue University
tvyn@purdue.edu
http://www.agry.purdue.edu/staffbio/vyn.htm

Dr. Tony J. Vyn is a Professor and Cropping Systems Extension Agronomist in the Department of Agronomy at Purdue University. Tony grew up on a hog and cash crop farm near Chatham in Southwestern Ontario, Canada. He earned his degrees from the University of Guelph, (in Guelph, Ontario) and was a faculty member in the Crop Science Department at the same university from 1987 until he left for Purdue University in 1998. Dr. Vyn advises several graduate students in research focused on understanding the interactions of tillage, crop rotation, and nutrient placement systems with soil properties and crop response. His current investigations include tillage comparisons (like no-till versus strip tillage), RTK automatic guidance for strip tillage and nutrient banding, soil carbon sequestration, plant-to-plant variability in corn, greenhouse gas emissions, and deep banding versus broadcast placement of P and K fertilizers for corn and soybean in intended high yield environments. He has served as Extension Coordinator for the Agronomy Department at Purdue and as Associate Editor for the Crop Science Journal. In his spare time, he particularly enjoyed cash-crop farming with his own family from 1980 to 1998.