Cover Crops for Soil and Water Quality
In most annual grain cropping systems, there are no living plants growing on the soil between harvest of one grain crop and planting of the next. In many systems or rotations, this can mean five months or more each year without living plants. During this time the soil is susceptible to losses of soil, organic matter, and nutrients, which reduces soil productivity and degrades the quality of our lakes, streams, and groundwater. Cover crops are one way to incorporate living plants into these fallow periods between harvest and planting. Cover crops reduce losses of nutrients and soil and can increase inputs of organic matter to soil. Thus, cover crops have the potential to dramatically decrease the impact of agriculture on water quality, while protecting and enhancing the long-term productivity of our soils.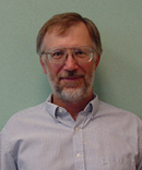 Tom KasparPlant Physiologist
USDA-ARS, National Soil Tilth Laboratory
Tom.Kaspar@ars.usda.gov


Tom Kaspar is a Plant Physiologist at the USDA-ARS, National Laboratory for Agriculture and the Environment in Ames, IA. Tom's research program focuses on crop and soil management to improve water quality and soil productivity. He has investigated small grain cover crops in corn-soybean rotations as one way of accomplishing these goals.