Controlled Traffic and Other Tips to Avoid Compaction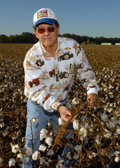 Randy RaperAgricultural Engineer
USDA-ARS National Soil Dynamics Laboratory
randy.raper@ars.usda.gov


Randy L. Raper, P.E., is an Agricultural Engineer with the USDA-ARS National Soil Dynamics Laboratory in Auburn, AL. He graduated from Mississippi State University with a B.S. degree in Agricultural Engineering in 1983, from Iowa State University with a M.S. degree in 1985, and with a Ph.D. degree in 1987. In 1987, he transferred to Auburn, AL. In 2002, he was appointed Lead Scientist of the newly formed Conservation Systems Research Team where he provided leadership for a multi-disciplinary research team of six scientists. The Conservation Systems Research Team developed conservation agricultural systems that minimized inputs, maximized yields, reduced risk, and conserved natural resources. In 2009, he moved to Booneville, AR where he became the Research Leader of the Dale Bumpers Small Farms Research Center. His research efforts have been focused on development of crop and soil management systems that are environmentally and economically sustainable. He has published extensively and has given invited technical lectures throughout the U.S. and the world. His awards have included the 2006 American Society of Agricultural and Biological Engineers Distinguished Lecturer, the 2007 USDA-ARS Scientist of the Year for the MidSouth Area, and the 2008 No-Till Innovator of the Year for Research and Education.