What a CCA Should Know About Tomatoes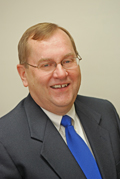 Steve SmithDirector of Agriculture
Red Gold, Inc.
ssmith@redgold.com


Steve Smith is Director of Agriculture for Red Gold, Inc., the largest privately held canned tomato processor in the world. Steve joined Red Gold in 1989 and has served as Distribution Manager and Agriculture Manager prior to being named as Director in 2005. In his capacity Steve has been involved in legislative affairs on both the state and national level helping to achieve the Farm Flex provision in the last Farm Bill. He also serves as the Tomato Research chairman for the Mid-America Food Processors, the National Advisory Council for the Sysco Sustainable Agriculture program, has been a Certified Crop Advisor since 1995, serves on the Indiana State Department of Agriculture Advisory Board, a Director of the American Fruit and Vegetable Processors and Growers Coalition, and many other industry groups. He is a graduate of Hagerstown High School and earned his BS Degree from Purdue University in Agriculture where he was named as a Distinguished Agricultural Alumni in 2009. Steve is married and has three children and four grandchildren, is active in his local church and enjoys traveling and being a pilot.