Impact of Fungicides on Soybean Disease Control and Yield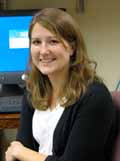 Dr. Kiersten WiseAssistant Professor
Purdue University
kawise@purdue.edu


Kiersten Wise grew up in Iowa and earned her B.S. in Plant Health and Protection from Iowa State University. She next received an M.S. in Plant Pathology from the University of Georgia. She recently completed her PhD work at North Dakota State University, where she did research and extension work for North Dakota farmers. Her research focuses on the biology and management of field crop diseases.