What's New in Nozzle Technology?
One of the most critical aspects of any crop protection product application is determining the proper set-up parameters for the equipment used to make that particular application. Concerns about application volumes (GPA), tank-mix components, nozzle type and pressure, droplet size, coverage, canopy deposition, and other critical application parameters are being commonly debated. Efficient application practices are needed for on-target deposition and improved efficacy. Over the last several years there has been an increased emphasis by nozzle manufacturers to design nozzles that will effectively reduce the volume of driftable fines found in spray droplet spectrums. One such nozzle design is the venturi nozzle. The adoption of this nozzle type is widespread and without adequate knowledge of performance or good operating parameters. Venturi nozzles can produce very coarse sprays that could result in reduced target coverage under some conditions. Concern has been expressed that this increased emphasis in designing nozzles to minimize drift is compromising field efficacy for some herbicide products. Most recently, nozzle manufactures have introduced nozzle types that while maintaining a drift reduction theme, are providing better coverage. More information about how to use the latest nozzle technologies to apply crop protection products is paramount for achieving optimum control of undesired pests while minimizing drift. This presentation will provide information on the latest nozzle designs as well as the research done in evaluating field performance. The latest information on calibrating sprayers for label directed droplet size specifications to meet the droplet spectra classification standard will also be presented.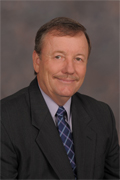 Dr. Bob WolfAssociate Professor/Extension Specialist in Application Technology
Kansas State University
rewolf@ksu.edu


Bob is currently an Associate Professor/Extension Specialist in Application Technology at Kansas State University in the Biological and Agricultural Engineering Department. His appointment is split 80% Extension and 20% Research. He has been in this position for 11 years. Prior to that Bob was in a similar position which also included Pesticide Applicator Training responsibilities for 10 ½ years at the University of Illinois. Bob began his career as a Vocational Ag Teacher at Paris, IL, a position he held for 10 years. Bob's main responsibility in his current job is to conduct an extension and research program in all areas of chemical/pesticide application with a particular emphasis on technology. He has a special interest in improving the efficiency of pest control applications to achieve maximum efficacy and minimize drift. Bob has concentrated his research program on evaluating nozzle technology for ground sprayers. He has also been very involved in working with the aerial application industry to improve the quality of applications made by agricultural aircraft.