Recent and Future Soybean Traits that Impact Weed Management
The performance of glyphosate in soybean has declined in recent years as a result of weed species shifts and the progressive increase in the occurrence of glyphosate-resistant weed species. Over the next five years several new transgenic soybean traits are planned for release that will encode for resistance to herbicides that serve as new tools for soybean weed management. The herbicide-resistant soybean traits include Liberty Link (glufosinate herbicide), Optimum GAT (certain sulfonylurea herbicides); Dow Herbicide Tolerant (2,4-D herbicide); Dicamba Tolerant (dicamba herbicide), and HPPD Tolerant (isoxaflutole herbicide). In most instances these traits represent the opportunity to utilize herbicide modes-of-action that were previously not possible in soybean; allowing for more effective control of today's problematic weed species, including glyphosate-resistant weeds. However, all of these technologies will rely on an integrated weed management strategy with a focus on residual herbicides and postemergence applications to weeds less than four inches in height to ensure robust weed control.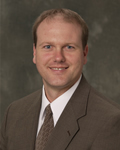 Dr. Bryan YoungProfessor of Weed Science
Southern Illinois University
bgyoung@siu.edu


Bryan Young obtained his BS degree in Crop and Soil Science at Michigan State University and his PhD in Weed Science from the University of Illinois. In 1998 he joined Southern Illinois University in the Department of Plant, Soil and Agricultural Systems and is currently a Professor of Weed Science with responsibilities in teaching, research, and outreach. Dr. Young teaches three courses annually in the area of crop production, weed management, and pesticide mode of action. His research and outreach emphasis involves postemergence herbicide application technologies and the development of weed management strategies in field crops.