---
Corn Beginning to Shut Down?
---
R.L. (Bob) Nielsen , Agronomy Department , Purdue University, West Lafayette, IN 47907-1150
Internet address: rnielsen@purdue.edu
---
Cool night temperatures may be shutting down corn development.
After having visited quite a few late-planted fields last week across northern and eastern Indiana, I believe that the cooler than normal temperatures back in the middle of September have likely triggered the beginning of a 'shut down' for corn. By 'cooler than normal', I mean those three or four nights (or more) when temperatures dipped down into the 40's.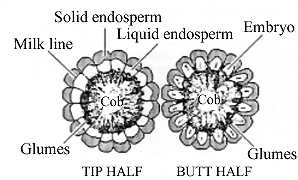 Normally when I stage grain development in corn (see P&C Newsletter No. 22, August 16), I don't expect to see the appearance of the milk line (or starch line) until sometime AFTER the ear has reached the fully dented stage. In a number of fields that I sampled last week, ears that were barely full dent already displayed milk lines halfway down the kernel faces. This suggests to me that the 'tail end' of grain fill is being curtailed and that kernel black layer will likely occur in fewer GDDs than usual.
If true, more late-planted corn will likely reach maturity prior to a normally-occurring fall frost than expected (good news!), but will do so at the expense of test weight and yield (bad news!) because of the shortened grain fill period. The exact effects on test weight and yield are difficult to estimate, but remember that about 40 percent of the grain yield in corn occurs after the full dent stage.
---

Return to the the Chat 'n Chew Cafe.

The Corn Growers Guidebook , a WWW resource for corn management systems in Indiana and the eastern CornBelt.

Purdue University Agronomy Extension WWW Home Page.

Purdue Agronomy On-Line! , Purdue's Agronomy Department WWW Home Page.
---
End of Document