Corny Places to Visit
Whether you are attracted to corny entertainment, sweet corn, or plain old corny Americana; there are plenty of corny places to visit throughout the U.S.
---
The World's Only Corn Palace (Mitchell, SD)
World's Largest Ear of Corn #1 (Olivia, MN)

The Corn Monument features the largest ear of corn in Minnesota and most visitors stop to have their picture taken with the colorful statue. It was erected in the summer of 1973 to commemorate the fact that modern hybrid seed corn production began in Olivia and that Olivia is the "Corn Capital of Minnesota." Olivia is also home to Corn Capital Days, featuring a Corn Capital Maze, World Championship Corn Toss, Corn-Lympics, Free Sweet Corn Feed and Corn Token Hunt.
World's Largest Ear of Corn #2 (Rochester, MN)

Also located in Minnesota, this is a photo opportunity you won't want to miss!
Okay, I admit it! The only relationship this tourist spot in the Caribbean has with the King of American Crops is its name.
Now the major entertainment centre in Cambridge, UK, the Corn Exchange was at one time in history a corn exchange.
Here's another former authentic corn exchange, now an entertainment centre, this time in Edinburgh, UK.
Yet another former authentic corn exchange, now an entertainment centre, this time in Newbury, UK.
A field of 109 people-sized ears of concrete corn in a large oddball art display near Dublin, Ohio.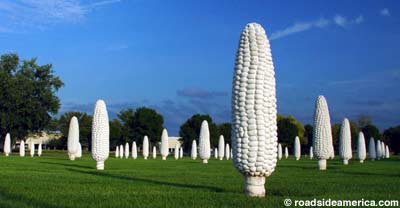 ---
Corn Festivals
Grundy County Corn Festival (Morris, IL)
Marion Popcorn Festival (Marion, OH)

"The largest popcorn festival in the world-and one of the largest festivals in the state of Ohio, the Marion Popcorn Festival literally pops with the best in food, fun and entertainment!"
Mendota Sweet Corn Festival (Mendota, IL)

Boasting "Tons of free, hot, buttered, delicious Del Monte sweet corn", this festival is held annually in Mendota, Illinois.
Millersport Lions Sweet Corn Festival (Millersport, OH)

"The Sweet Corn Festival has been held annually since 1947. It is always the Wednesday through Saturday before Labor Day in Millersport, Ohio, which is located 25 miles east of Columbus."
"The Corn Festival has been recognized by Cleveland Magazine as the best festival in Northeastern Ohio in the June 2002 edition."
Olathe Sweet Corn Festival (Colorado)

"The Olathe Sweet Corn Festival, held annually in the small town of Olathe Colorado, is a full day of excitement, relaxation, food, fun, shopping, music, entertainment, and the best sweet corn on the planet."
Birthplace of the best-known name associated with popcorn, Orville Redenbacher.
Shippensburg Corn Festival (Pennsylvania)

"The Corn Festival, which was rated the best one-day festival in Pennsylvania by the Pennsylvania Festivals Association, is presented by the Corn Festival Committee, a small group of dedicated volunteers."
Strasburg Corn Festival (Ohio)

"The family event, which is known throughout the county for it's delicious, homemade food and superb entertainment, draws festival-goers from far and near."
Valparaiso Popcorn Festival (Indiana)

"This festival celebrates the #1 snacking product in the nation POPCORN! Orville Redenbacher established his first popcorn plant in Valparaiso, Indiana. In 1979 the City decided to thank Orville by celebrating popcorn with an annual festival."
Claims to be Iowa's largest sweet corn festival.
Young's Farm Corn Festival (Arizona)
Zellwood Sweet Corn Festival (Florida)

"The Zellwood [Florida] Sweet Corn Festival is a combination of outdoor family fun and entertainment."