How to Use IP Video Programs for Training Opportunities Within Agriculture Businesses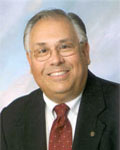 George E. Van ScoyocProfessor
Purdue University
gev@purdue.edu
http://www.agry.purdue.edu/staffbio/gevbio.htm

George E. Van Scoyoc is Professor of Agronomy at Purdue University. He grew up on a farm in Northwestern Ohio and earned B.S. and M.S degrees in Agronomy from Ohio State. He received his Ph.D. degree in Soil Chemistry from Purdue University. He teaches soil science and soil fertility and conducts research in the areas of soil mineralogy and surface chemistry, adsorption of organic compounds by soils and clays, spectral reflectance properties of soils, movement of fertilizers and pesticides in the soil, and soil testing procedures. Dr. Van Scoyoc is past chair the Purdue Teaching Academy and is the co-developer of a Soils Resource Center that utilizes a multimedia learning environment. He is listed in the Book of Great Teachers at Purdue.