! Coded by Larry Theller, Fall 1996>
Purdue Agronomy
Water Quality Research Facilities
---
Field Scale Facilities provide a "laboratory" for Field Scale Studies.
Two outdoor laboratories designed to study agricultural effects on surface and subsurface water quality.
The Department of Agronomy maintains two fully-instrumented field stations which allow graduate study and research in:
| | | | |
| --- | --- | --- | --- |
| Soil Ecology | | | |
| | Pesticide Transport | | |
| | | Crop System Management | |
| | | | Nutrient Cycling |
Near West Lafayette the Agronomy Department operates the 951-acre Agronomy Research Center (ARC). The Water Quality Field Station (WQFS) is located there.
Visit the WQFS page to view the animated gif explaining how our tipping bucket flowmeters work!
At a Purdue facility located near Butlerville, Indiana, in Jennings County, water quality related research is conducted at a field station, the Experimental Drainage Project, which is located at SEPAC, the Southeast-Purdue Agricultural Center.
Using test plots large enough to accommodate real agricultural practices, each site has data-logging instrumentation which records local rainfall, soil water flow, and triggers automatic sample collectors.
Collected samples are analyzed in various labs studying nutrient, tracer, pesticide, and metabolite transport.
These two sites are operated in conjunction with researchers in Agronomy, Botany & Plant Pathology, Agricultural Economics, and Agricultural & Biological Engineering.
Other programs underway in Agronomy which involve water quality issues include characterizing the effects of tile drainage on soil ecology and studying the effects on agriculture of land-use planning decisions such as urbanization of rural fringes.
---
More Information on Facilities and Programs


This is now an active image map!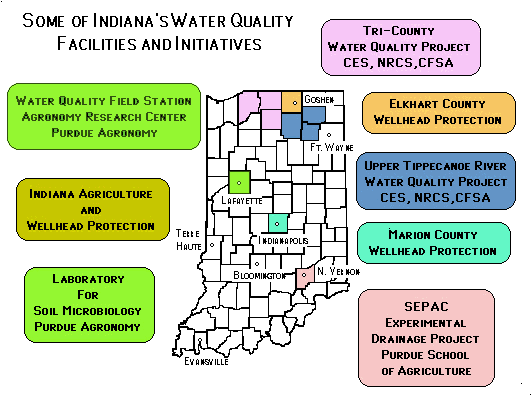 Purdue Agronomy Water Quality Research Facilities:
Indiana's Hydrologic Unit Area Water Quality Projects:

Visit some WETnet program areas
created by the Department of Agronomy
Indiana's Wellhead Protection Rule and Water Quality.
---